Fresh Produce and Wine
Dining, Wine and Gourmet Food
Following World War II, many Europeans settled here in Albury Wodonga, bringing with them their traditions and love of food. Many restaurants soon started enabling the new Australian residents to share their culinary delights.
Albury Wodonga's stunning countryside, being in close proximity to the Murray River, offers fertile land ideal for growing vegetables, orchids, various fruits, olive trees and other delicious fresh produce.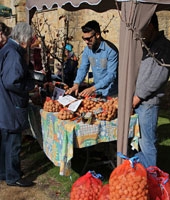 Much of our local produce and freshly picked delicacies can be experienced in our local restaurants and cafés. There's a food choice for all occasions in Albury Wodonga, from a family picnic by the river to a romantic evening of fine dining.
If it's a good meal you are looking for, Albury Wodonga restaurants have it all... fine dining, historic pubs, busy clubs, stylish cafés and venues which feature a great range of wines from the surrounding region. We're also known for our busy, friendly and great value clubs offering spacious lounge areas and a variety of dining outlets including outdoor courtyards, bars, bistros, and cafés.
Albury Wodonga has a huge number of cafés, and offer award winning breakfasts and magnificent coffee. From the cosy little cafés in town, to picturesque locations on the banks of the Murray River you'll find one to suit your taste.
There are regular Farmers' Markets held throughout the region. Locals and visitors can also tour the region and purchase fresh produce, wine and cheese direct from our growers' doorstep.
Further afield, both Rutherglen and Beechworth offer great food and wine experiences.
The Rutherglen Wine Experience Centre is the best place to start for information on Rutherglen's many wineries and attractions. The Rutherglen and Wahgunyah wine region has long been famous for its full bodied red wines and its luscious fortified wines. Rutherglen holds the Rutherglen Winery Walkabout every year on the Queen's Birthday long weekend in June.
For those interested in exploring further afield you can also head south west to the vineyards of Beechworth, Milawa and the King Valley.
Vineyards and Breweries
Vineyards and Breweries
Beechworth is also widely known for its food and wine, with the Beechworth Bakery famous for its traditional and contemporary pastries, cakes and pies.
Inland from Albury Wodonga you'll find some of Australia's prime vineyard areas featuring cool climate wines and even a local brewery.
There are around 20 wineries in the area where you can taste at the cellar door. Some of our award winning wineries first planted their grapes in the 1950s and 60s and are still in the hands of the same families today.
A drive through the rolling hills of the wine region is not to be missed and many of the wineries also feature restaurants or cafés so you can relax and enjoy the picturesque environment.