What's On
Expired Event - Avenue Q - 21 Mar 2019
This is a past event:
Search for New Events »
Avenue Q
When:
Every day until Sun 24 Mar 2019
Details:
You are invited to join Revolution Theatre Productions as they present AVENUE Q, the outrageously funny musical comedy that requires you to leave your children at home, along with political correctness, to enjoy irreverent, puppet-filled fun that contains adult themes, strong language and sexual references with a cast of quirky puppets plus a few humans.

Avenue Q tells the timeless story of a recent college graduate trying to find his way in the world.

Set in New York City all the way out on Avenue Q (he couldn't afford anything better), we are introduced to fresh-faced Princeton as he struggles to find his purpose: meeting friends, finding love, losing love, and finding it again, along with way.

Inspired by the beloved children's show Sesame Street, Avenue Q creates a puppet-filled world that is a little more reflective of the difficult, R-rated realities that we face when he learn that real life isn't as simple as we dreamed it might be - but perhaps, suggests Avenue Q, life is all the more colourful and worthwhile for it.

Avenue Q is part flesh, part felt and packed with heart, winning 3 Tony Awards in 2004 - Best Musical, Best Score and Best Book.

It's been said, "You'd be a muppet to miss it!"

Please Note: Despite featuring puppets, Avenue Q is rated MA15+. It is not suitable for young children; but suitable for teenagers if parents are okay with them seeing full puppet nudity, hearing naughty words and witnessing quite a furry sex scene.

Show times:
8pm - Thursday to Saturday, 1pm - Saturday and Sunday.

Tickets:
Full $40, Concession $35, Student 15-18yrs $35, Group 10+ $35 Cube Members All $30.

Buy your tickets now at the website link.
Location:
The Cube Wodonga, 118 Hovell St, Wodonga
Share Event
Share
Avenue Q

with friends.
What's New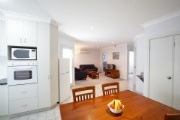 We offer a choice of Motel Units or Apartments, in a selection of configurations to suit your requirements.
more »
What's On Menu: