What's On
Expired Event - John Mawurndjul: I am the Old and the New - 8 Mar 2019
This is a past event:
Search for New Events »
John Mawurndjul: I am the Old and the New
When:
Every day until Sun 26 May 2019
Details:
The old ways of doing things have changed into the new ways. The new generation does things differently. But me, I have two ways. I am the old and the new.
- John Mawurndjul

John Mawurndjul: I am the old and the new reunites works of art from national and international collections made across a 40-year period. John Mawurndjul AM (born 1952, Kubukkan near Marrkolidjban, western Arnhem Land, Northern Territory, Australia) has led the development of this exhibition, which describes in Kuninjku (and English) his places of special cultural significance known as kunred, as well as the sacred places and spirits – or Djang – that resurface time and time again in his art-making. We also encounter the animals and spirit beings that populate these locations including female water spirits (yawkyawk), rainbow serpents (ngalyod) and mischievous mimih spirits.

The places around western Arnhem Land that recur in his work include spring-fed creeks such as Milmilngkan, sandstone escarpments including Ngandarrayo and the white clay quarries of the seasonal creek called Kudjarnngal. The materials used by Mawurndjul to make his art come from these places – the stringy bark eucalypt skins that form the body of his bark paintings; the white clay, yellow and red ochres mined from sacred deposits that become paint; and the manyilk, the paint brush sedge that makes the single-strand brushes that the artist uses to make cross-hatching or rarrk.

The Mardayin ceremony, comprising rituals of a sacred nature, and informing so much of Mawurndjul's work, remains a timeless narrative thread that links the past to the present, and sheds light on Kuninjku future – embracing the old and the new.

Curators: Clothilde Bullen, Natasha Bullock, Nici Cumpston and Dr Lisa Slade with Keith Munro as Lead Cultural Advisor; in close collaboration with John Mawurndjul AM, Kay Lindjuwanga, Ananais Jawulba and Maningrida Arts & Culture staff Michelle Culpitt, Zebedee Bonson, Derek Carter and interpreter/translator Dr Murray Garde.
Location:
Murray Art Museum Albury
546 Dean Street
Albury NSW 2640

Share Event
Share
John Mawurndjul: I am the Old and the New

with friends.
What's New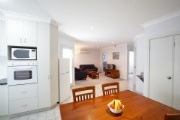 We offer a choice of Motel Units or Apartments, in a selection of configurations to suit your requirements.
more »
The area's premiere venue for food drink and fun. Weekly food specials, Live music every Sunday.
more »
What's On Menu: