What's On
Albury Wodonga offers many activities and events from major festivals & entertainment through to markets and fetes. If you have an event coming up in the Albury Wodonga region you can promote it FREE on AlburyWodongaAustralia.com's What's On Events Calendar. Please read our full disclaimer for more details.
June 2019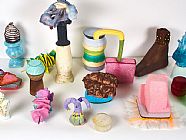 Daily (Thu 02 May - Sun 30 Jun 2019)
Maurice Chick Family and MacLeod-Miller Adamshurst Gallery Murray Art Museum Albury...
New Old Stock, a solo exhibition by Susie Losch, presents an ambitious and joyful collection of new sculptural forms. A prolific maker, Losch is driven by...
Daily (Thu 20 Jun - Fri 21 Jun 2019)
Atura Albury, 648 Dean St, Albury
Ausmed believes it is essential that nurses living in the Albury/Wodonga region have access to effective and engaging CPD on an annual basis. We look forward...

Every Week on Sunday until Sun 22 Dec 2019
Sun 23 Jun, Sun 30 Jun, Sun 07 Jul
Kiewa Street Multi Deck Carpark, 441 Kiewa Street Albury,
Held every week on Sunday. The Rotary Kiewa Street Community Market is a joint venture of the Rotary Club of Albury North and the Rotary Club...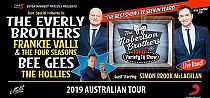 Sat 29 Jun 2019
Albury Entertainment Centre 525 Swift Street, Albury
Rock n Roll fans this is the show that you all have been waiting for 'The Everly Brothers & Buddy Holly Together In Concert' The magical...
What's On Menu: